---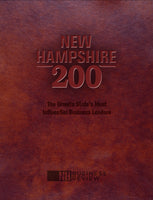 Unprecedented in scope, the New Hampshire 200 is the product of a year-long research initiative by the editors of New Hampshire Business Review resulting in a personal, engaging look at the state's most influential business leaders across major industries.
The 200 executives are selected according to extensive contacts in regional business circles, hundreds of interviews and months of research, culminating in a highly selective biographical guide to the people who really run New Hampshire.
Save $5 off each issue (for a total of $24.95 each) when you order more than one copy. To receive this discount, simply adjust the number of copies in your shopping cart when you check out.
If you would prefer to order bulk issues over the phone, then please call Heather Rood at 603-413-5110.